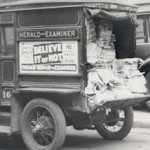 Newspaper Delivery
Newspaper delivery is the last part in a long line of newspaper circulation and for those who believe in "old school" reporting and an unrelenting dedication to truth and accuracy, will help keep this industry viable. Nearly three quarters (72%) of adults today are attached to following the local news for information. Local newspapers are by far the primary source that they rely on for much of the local information they need.
"Interest in community news on various topics is quite high in every community." "Still, people get local information in different ways depending on the type of community in which they live and they differ in the degree to which digital and mobile platforms factor into their mix of sources." http://www.pewinternet.org/Reports/2012/Communities-and-Local-News.aspx. 
Newspaper delivery is also a great way to get your name out to your target market. A newspaper delivered straight to your prospects door is a great way to connect your message with the right audience.
At Sparkles Delivery Service Inc., we specialize in providing direct newspaper delivery to your clientele who still believe in hard copy news. We will distribute your publication door-to-door throughout designated areas of your choice and we'll also advocate your business in the same breath to help in promoting continued readership.
In addition to newspaper delivery, we also offer door hangers, flyer delivery, menus and a whole host of other services.
If you are seeking an experienced and reliable marketing distribution partner you can trust, "Contact Us" at Sparkles Delivery Service Inc. in Philadelphia, Pa.
Visit our contact page and, REQUEST A QUOTE TODAY!